New Puzzle Wizard - step 1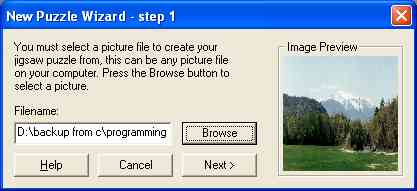 In this step you will need to tell the wizard where your picture file is, the easiest way of doing this is to press the Browse button and look for it. The default location for puzzle pictures is in the "my pictures" folder, although your pictures may be in another folder such as "My Documents".

Jigsaw Mania supports most of the major picture formats, such as JPG, BMP, TIFF etc.. so you should just be able to use any picture file.

The size of you picture makes no difference, the next step will automatically resize the image to fit the number of pieces you specify.
A small preview of your chosen picture is shown as well, when you are happy with your choice, press the Next button.
---