This is the crazy stuff we're up to…
A fine day for a BBQ
July 27, 2017
This year we've been blessed with an unusually high number of good weather days – the sun has been working in overdrive to give us way more than the standard UK quota of 2 sunny days per year!
We decided to take full advantage of this by holding a BBQ at Greg's house. A particularly mild and pleasant Monday was settled on and we made our way there in the afternoon. We started with a couple of rounds of telestrations – see if you can guess what is represented in Graeme's picture below…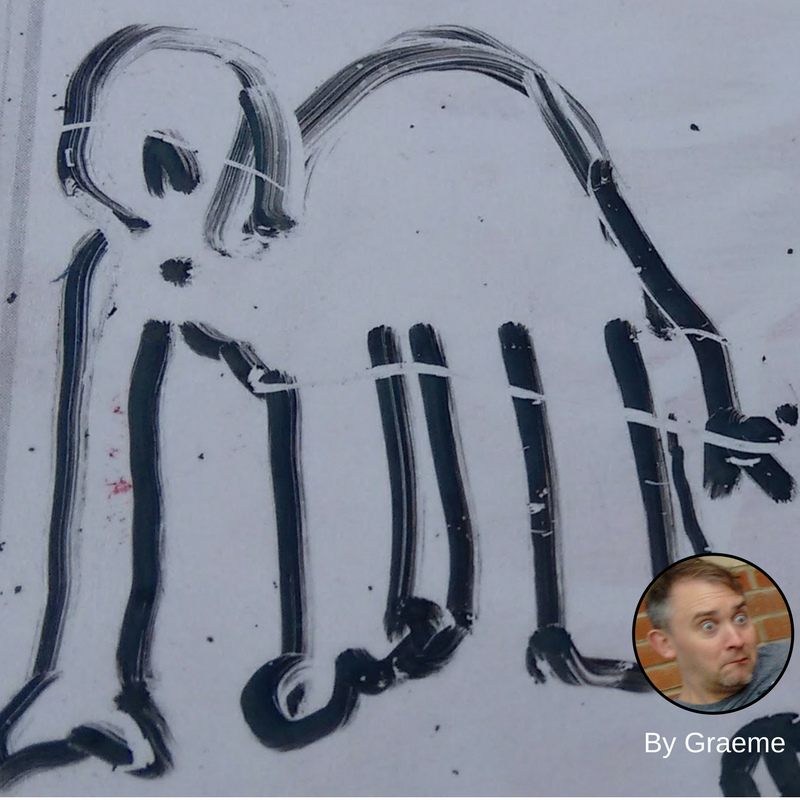 Lucy then took on the role of chef and cooked us up some delicious burgers, sausages, wings, halloumi and kebabs, plus Alice made some delicious piña coladas! Once we were all fed and watered we moved inside for some Singstar – classic hits enjoyed included Meatloaf's "I'd Do Anything for Love (But I Won't Do That)" and Anastacia's "Left Outside Alone".
We then moved on to the cardboard box game; players have to pick up an ever shrinking cereal box using only their mouth, while only touching the ground with their feet. Lucy and both Lauren's managed to make it to the final round which involved picking up just a flat piece of card. The surprising flexibility of some office members made us suspect some people may have been practising over the weekend!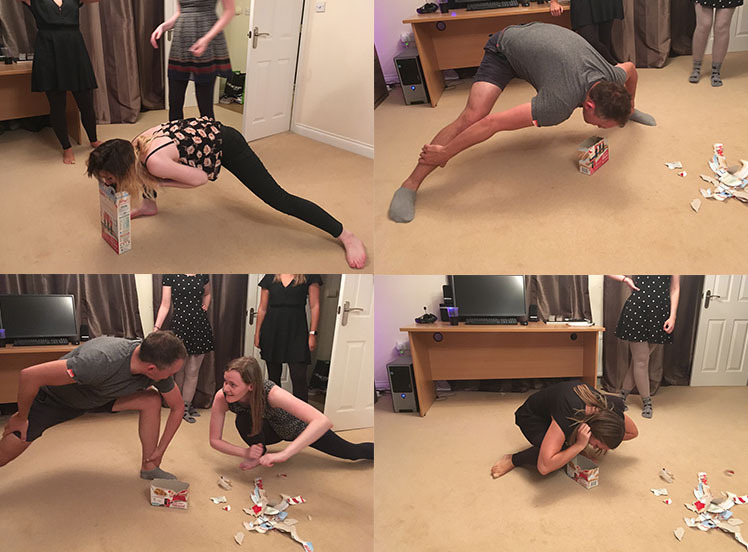 Lastly we enjoyed a game of sardines (we are grown ups, we swear!). We turned the lights off and shut the curtains, and one person went off to hide. The others then searched one by one and joined them in their hiding place. Lauren L found a particularly clever hiding place planking across the dining chairs under the table, while Graeme and Kim managed to hide undiscovered in Greg's wardrobe for at least 10 minutes!
---
Our first year of Beardie parenthood
July 5, 2017
---
Oh I do like to be beside the seaside!
May 19, 2017
---
Jackpot Bingo!
May 2, 2017
---
Amazon UK Developer Spotlight
March 8, 2017
---
Forest Frolics
January 24, 2017
---
Twist and Shout!
January 13, 2017
---
Festive Fun!
January 5, 2017
---
Award winner!
December 7, 2016
---
A Frightful October!
November 7, 2016
---
Inspiring some creative writing!
September 26, 2016
---
Inertia Fun Day!
August 10, 2016
---
Here Be Dragons...
June 23, 2016
---
Our Latest New Release - Petal Match!
June 17, 2016
---
The one with the Hammock
June 2, 2016
---
Sweet Treats
April 21, 2016
---
Murder Mystery Night
March 17, 2016
---
Dragon Words is here!
February 15, 2016
---
Weekend at Center Parcs
January 20, 2016
---
Our new office member..
December 18, 2015
---
Cross-Stitch World has arrived...
December 8, 2015
---
The newest edition to our games - Facility 47!
November 23, 2015
---
Inertia does Halloween!
November 2, 2015
---
Rock Band!!
October 15, 2015
---
A spooky sneak peek..
September 11, 2015
---
A Steak Challenge, a quiz and a farewell
July 30, 2015
---
Inside our Office
June 30, 2015
---
Margrave Release Party
June 3, 2015
---
Road Trip to Norwich!
May 27, 2015
---
The Secret of Margrave Manor..
May 12, 2015
---
BBC Radio 1's Academy
April 21, 2015
---
Sneak Peek - Dragon Words
April 16, 2015
---
Ping Pong has arrived!
April 14, 2015
---
One Million Players!!
April 8, 2015
---
A night in with Oculus
April 2, 2015
---
Christmas Party 2014
March 25, 2015
---