Our Catastronauts team is currently very busy bringing the game ever closer to release, but at the start of June they managed to spare a few days to head off to Norwich Gaming Festival! Norwich is fairly close by to us, so we were excited to attend a local event and get the chance to show off Catastronauts a little closer to home!
Norwich Gaming Fest is a free, family-friendly celebration of games, held annually in the city centre. It's packed full of indie devs exhibiting playable versions of their games; there are also unique and fun activities to try out such as retro games and a board game cafe, gaming merch to buy, gaming art on display, advice on getting into the industry and much more!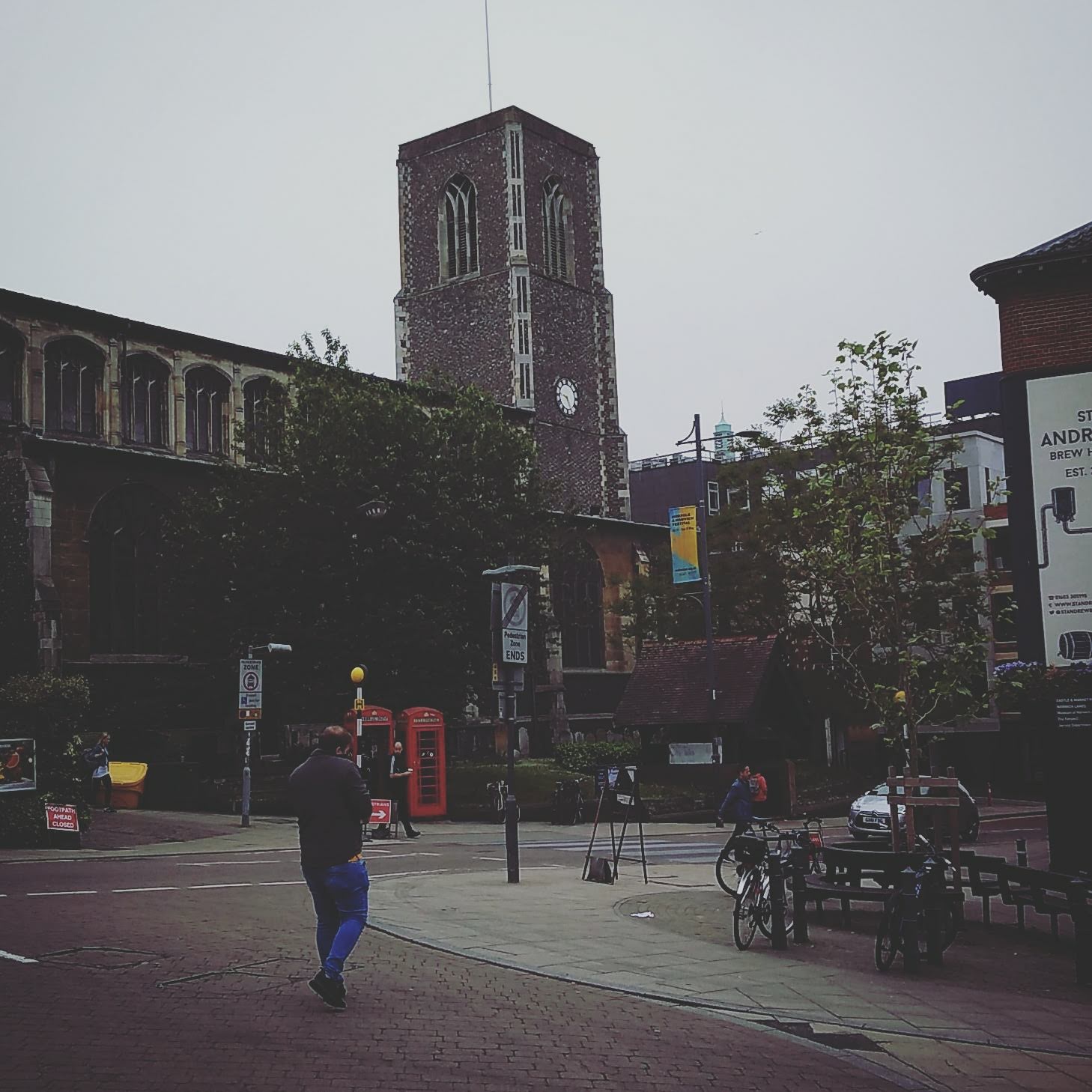 We were at NGF for three days and had a really wonderful time! The atmosphere at the whole event was very relaxed, so it was great for really getting into the game with members of the public and seeing which parts they enjoyed the most. The event is also perfect for families, which meant we had loads of younger players trying out the game – it was fun to see that our 7 year old players could still quickly figure out how to lock their teammates out of the safe room when a solar flare was approaching.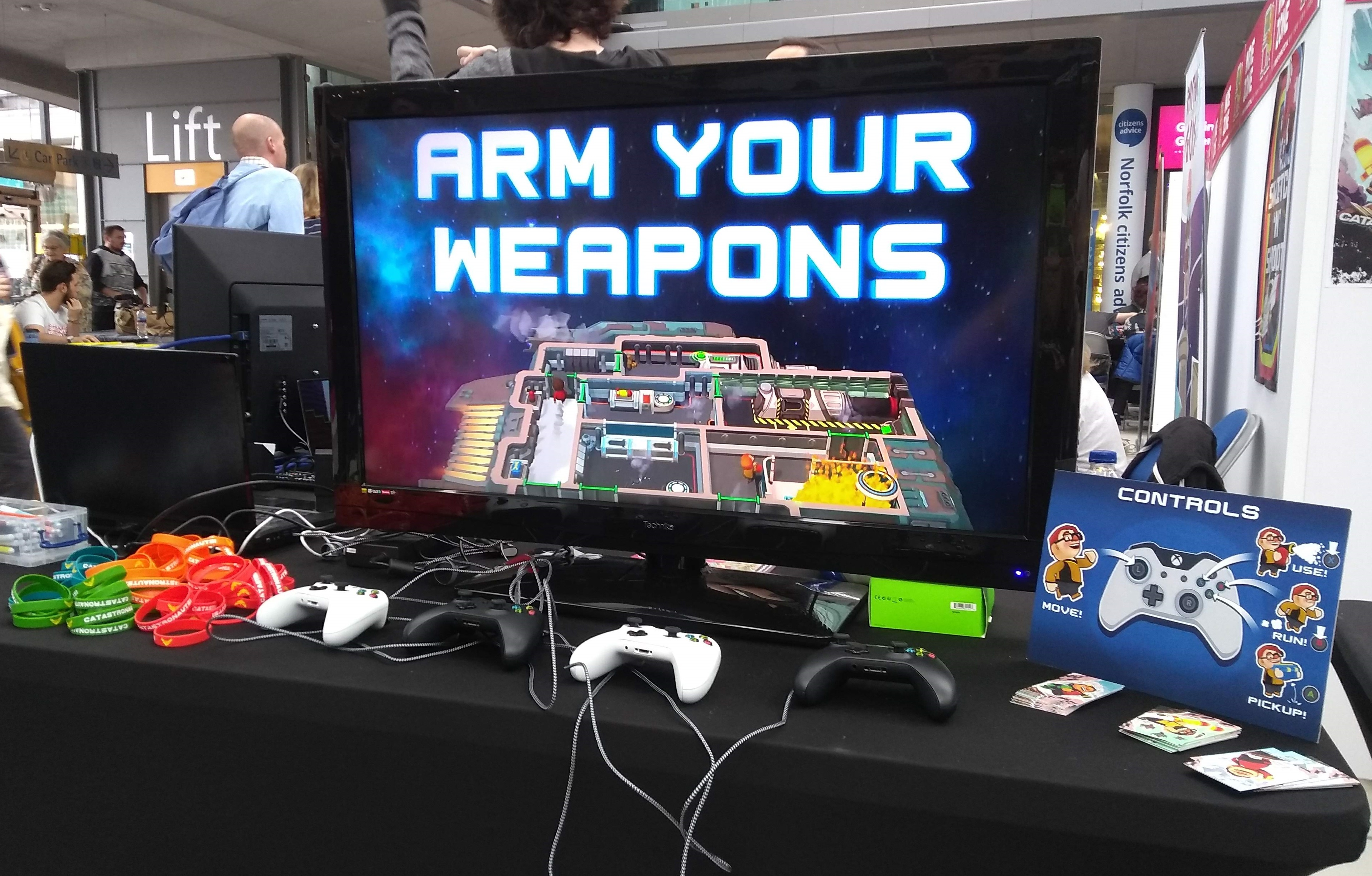 On the Saturday evening, we headed to Epic Studios for the NGF pub quiz! This really put our gaming knowledge to the test, with questions spanning from retro console favourites (anybody else remember Cool Spot?) right through to the latest releases. We're all (as you would expect) pretty big gaming fans, but gaming has such a huge field of potential questions, so to avoid disappointment we set our expectations from the off with our team name, which was ? (yes – the actual team name was the smiling poop emoji). However, we were pleasantly surprised that we were not right at the bottom of the list! The winning teams really impressed us with their very detailed knowledge of gaming.
While at the event we also got to chat to lots of fellow indie devs and try some of their games. A couple of projects that caught our eye this time were:
+ Locomotion, an awesomely intuitive train themed puzzler with a great art style
+ Switch 'N' Shoot, a one-button arcade style shoot-em-up which had it's own special and very retro arcade cabinet at the show
+ Black Friday Simulator, which felt like being on Supermarket Sweep except you are trashing things instead of collecting them (great stress relief!)
+ The Dwarves of Glistenveld, a real-time strategy with some retro inspiration and a fun sense of humour
We had a brilliant time at the event – we got lots of great feedback about the game, experienced lots of chaotic fun as we played along with visitors, and all really enjoyed ourselves.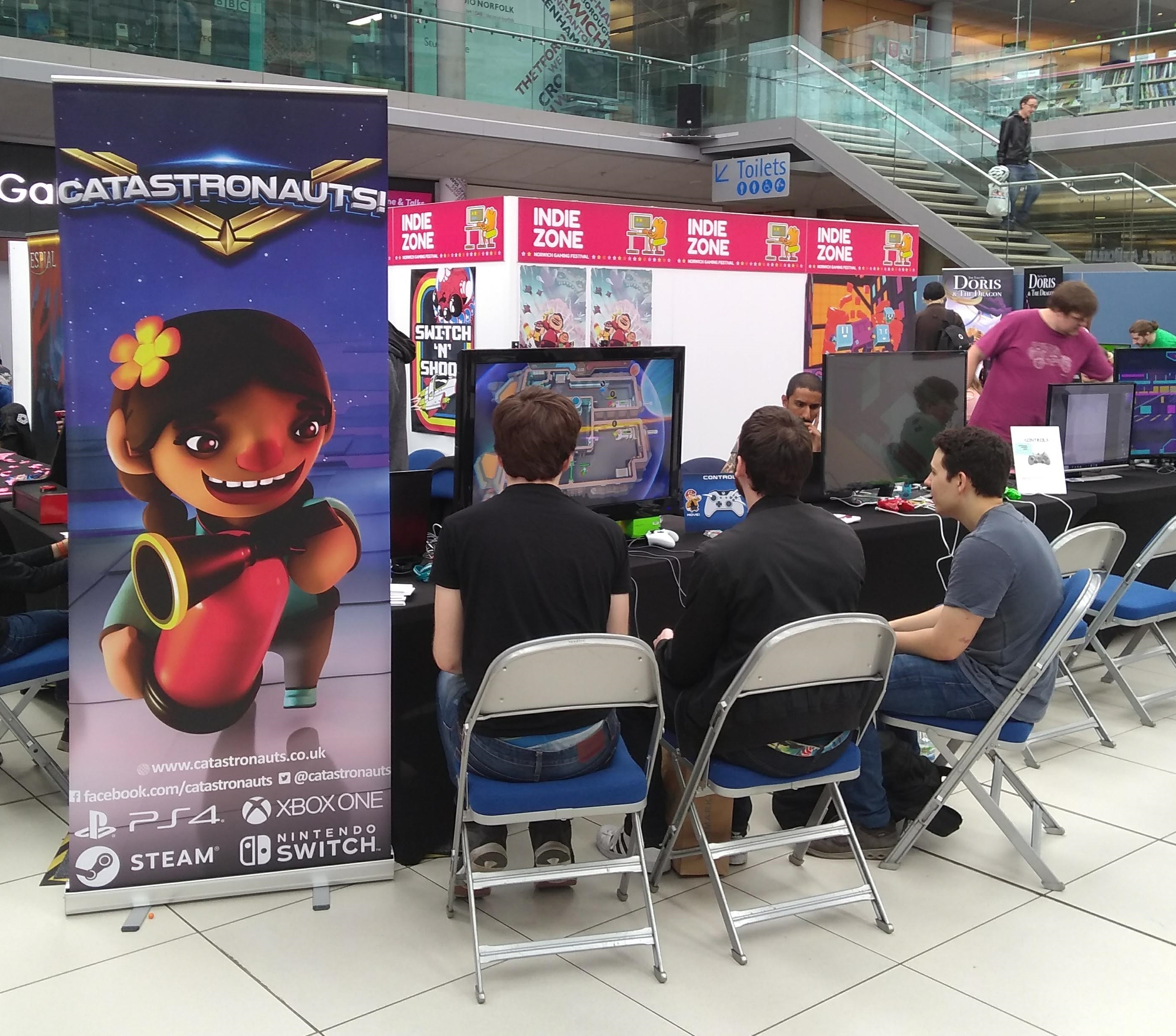 Have you seen Catastronauts in action yet? If not, why not grab yourself a ticket for EGX, where you can find us in the Rezzed zone along with lots of other wonderful indies! And don't forget to follow us on social media for all the latest on the game!

Catastronauts on Facebook and Twitter; wishlist the game on Steam