We've just released a brand new Facebook game into the world!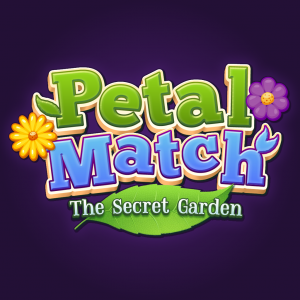 Petal Match: The Secret Garden will look familiar to players of our existing game, Mahjong: The Secret Garden. The gardening elements of the game are the same; you are given a secret garden which is yours to fill with beautiful and exciting flowers, trees, decorations, buildings and more, and you also get to travel to and explore many exotic islands in both games.
In Petal Match however the gameplay element is brand new! Players get to play exciting new match-3 puzzles. Make swaps to match up flowers of the same colour; there are different objectives to meet for each level. Take your time and pick your moves carefully – the fewer moves you use, the higher your score!
There are lots of special tiles that can help or challenge you throughout the game. Pesky weeds will need removing to clear the way for your matches and rotten fruit can wilt your flowers if you don't get rid of it quickly! But don't worry – you can use watering cans and fertiliser to perk up your flowers. If you match up more flowers at once you can create garden gnomes who'll help you out by zooming through and collecting whole rows and sections of flowers at once. Our favourite helper here in the office is the bee – bees will always do whatever they can to help you meet your objective, be it getting rid of tiles that are in the way or making your flowers count for more!
You can even combine different helper tiles together for some pretty spectacular score-boosting effects (we won't say too much, but when you get the chance try out a gnome with a sickle…).
Take a look at the game for yourself – check out the screenshots below and click here to start building your own secret garden and journey through the many exciting match-3 puzzles. You can also visit and like the Facebook page for the game to stay up to date with all the latest news!!